Is your website difficult to manage? Could it be more profitable?
How to Increase Your Website Sales in a Few Short Weeks!
I'll show you how to grow your website into a thriving money-maker with my step-by-step training course,
complete with easy weekly assignments to guide you into profit!
Tuesday, 10:00 am
FROM: Kurt Scholle, Website Success Guy
RE: How Much Money Are You Losing and How Fast Are You Losing It?
Most people tell me that their #1 complaint about their website is that it isn't generating as much revenue as they would like. Other concerns include:
They aren't getting enough visitors to your site
They are concerned about their site design
They can't seem to manage time to work on the site
They aren't confident with how to create content that motivates prospects to buy
They're not having success in getting people on an email list for follow up
They struggle to update the site or can't find a good web designer
Sound familiar?
In 2019, there are 1.6 Billion registered domain names in the world, but only about 25% of them are active. The reason? Website owners and managers don't have the basic training they need. It's difficult to know all about WordPress, writing content that converts, creating images and videos or getting visitors to their websites. 
They don't know what they don't know. That's how  much they don't know.
It's not their fault. People wear a lot of hats now days. People are in business because they are good at what they do. They don't have time for many of the hats they are forced to wear. They have little training on hosting websites, marketing online or copywriting, which are all ESSENTIAL!
Website Success also depends on:
Knowing who ALL your target audiences are and what solutions they are looking for!
Converting visitors into buyers!
Developing, testing and revising a comprehensive project plan!
Monitoring Key Performance Indicators for better decision-making.
Have a Website You Can Be Proud Of!
Success Keys
The two most important keys to Website Success are getting traffic to your site and getting those visitors to convert. Most websites fail at doing both.
There is one other key to Website Success and that is having a complete understanding of your prospects, your TARGET PERSONAS!
The Holy Trinity of Website Success!
Getting site visitors comes from doing some of the following. Some tactics will work better than others for different people, markets and situations. You need to figure out what works in your situation.
SEO-Search Engine Optimization: Getting high rankings in the free SERP listings.
Paid Listings: Getting great visibility quickly in sponsored listings on SERPs.
Facebook Ads: Amazing targeting by location, interests, gender and even income.
Social Media: Leverage the power of LinkedIn, Facebook, YouTube and Twitter to name a few.
Offline: Networking, speaking, press releases, print, direct mail…
Improving your conversion rates can sometimes be as simple as adding an order button or a phone number to the page (we see it regularly), but these tactics improve results exponentially!
Message to Market Mix: Making a

better offer

to specific target audiences.
Website Layout: Usability and having visitors move through your funnel.
Social Proof: Adding

testimonials

to your sales pages.
Emotional Appeal:

Using case studies

or telling a story.
Strategic Business Plan: Improving your

online sales funnel

.
Good companies invest in information, people and resources with the expectation that it will come back to them in spades!
It's All About Return-On-Investment (ROI)
ROI can be broadly defined as revenues divided by the investment of time and resources. ROI can be calculated in more than one area of a company and there are many ways to improve the ROI of a website!
It's a question successful business people and entrepreneurs think about all the time. "If we change the location of our business, how will it affect the bottom line?" "What if we change that headline?" "Should we buy some equipment?" "Should we attend that trade show?" "Will hiring a new salesperson be profitable, and if so, when?" "Should we run that ad again?"
Your website can help increase revenues or control costs. (Or BOTH!)
What if you could take advantage of all of my expertise – 20+ years of
website business development and marketing?
What if you had access to the tools I use and the templates and checklists
that I have developed for websites that get up to a million visitors per year?
What if it was delivered to you in an effective manner, without being overwhelming?
What if it was all really affordable?

Introducing Website Success Essentials
A Step-By-Step Training Program
for Improving or Starting a Successful Website!
The Website Success Essentials Course is a 5-module training course that teaches business owners and managers
how to assess, revise and improve their website. Learn how to attract more visitors who will become customers!
49 Lessons – 18+ Hours of Video Training
I developed Website Success Essentials to teach you how to improve or develop your website without learning how to code it or use expensive software, like Photoshop, to build it. It's designed to benefit the stake holders within a few short weeks, then helps take you to the next level! Without overwhelm!
Part of the course shows you how to create the ability and vision to define your specific goals and manage the process of achieving website success!
Not "techy" training. It's more about site strategy, management, copywriting, business development and marketing.
We'll cover everything…
How to organize your website project and create an effective plan!
Auditing your site to set a firm foundation and identifying the areas that need the most work!
Researching your market and competitors to find out what your prospects really want and what they will pay for!
Organizing your site for clarity – so prospects will immediately understand what it's about and how they benefit!
Attracting visitors to your site using free or inexpensive advertising!
How to begin a dialogue with prospects and keep customers in the loop!
How to increase the effectiveness of offline sales and marketing initiatives!
How to find and manage the people working on your site!
Discover What's Working NOW!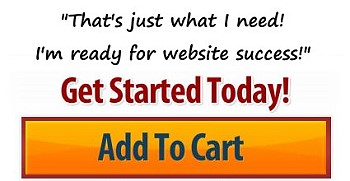 The Website Success Essentials course is a sequence of phases that prepare your website for attracting more visitors (traffic), engaging them and moving them through the sales funnel, setting up or refining the fulfillment of your goods or services (conversion), supporting the customer after the sale and encouraging them to promote your brand and buy from you again.
I'm going to teach you the principles and best practices that govern an effective website so that you can develop one that serves your particular business and meets your individual needs and tastes, as well as those of your prospects.
Develop Your Customized Website Project Plan
and Operations Manual With My Proprietary Templates!
I will explain each stage and give you real examples to help you visualize exactly how each stage works, including the key components, tactics and the tools you'll use. With my help, I'm going to ask you to write out your objectives for each stage and how you're going to achieve your objective. I'm going to provide you with templated pages in Word format , which will ultimately become your customized Project Plan and eventually, your Website Operations Manual!
I'll do my best to make it as easy as possible to absorb and implement the information.
Free & easy ways to identify target audiences and the solutions THEY are looking for – not just what you know they need or think they want. (You may be surprised!)

How to systematize and automate procedures, freeing you and your team up for other profitable activities. (Or maybe just giving you more time to spend with friends and family!)

How to find and evaluate people, like designers & programmers, who will do the things you or your team are not able to do easily or effectively.

Free, cheap and cost-effective marketing tactics that will help get the Attention of prospective buyers who will develop an Interest in your products/services, resulting in a Desire to buy them and take Action. (AIDA)

How to develop page content that turns browsers into buyers.

Why adding a blog can be one of the most effective elements of your website.

Even without a blog, why WordPress is the best Content Management Solution (CMS) for a variety of businesses in virtually any market or niche.

Links to online resources, many of them free, that will help you learn more about what you need to do to make your website successful, while building your confidence and capabilities.

Admission to my private online support group on Facebook – a great place to ask questions, network and share information.
Instead of simply publishing this information in some eBook or quick-coaching program, I'm making it available to you in action-sized portions so you actually get results. This won't be yet another eBook taking up space on your hard-drive and quickly forgotten. Each module contains 'here's what to do next" action steps to move your project reliably forward without overwhelm. Essentials includes bonus lessons, checklists and resource guides to add insights and value to your website and your career!
What you need is for someone to show you how to get started and then teach you week after week so you don't get stalled along the way.
Who will benefit?
Small/Medium Sized Business Owners: Often too busy working IN the company, instead of ON the company.
Staff and Assistants: Usually busy and often needing more experience and support to truly get the job done right.
Local businesses hoping to attract customers at the exact moment they are looking to buy.
Website Developers who want to develop a winning strategy for their clients.
Virtual Assistants looking to up their game and offer new skills.
Work at Home Moms or Dads.
Affiliate Marketers
Bloggers
Website Success Essentials will help you build or improve websites and blogs for the following types of sites or businesses:
Manufacturers
Realtors or Real Estate Companies
Attorneys
Interior Designers
Consultants
Restaurants & Bars
Doctors
Affiliate Marketers
Wedding Planners
Chiropractors
Retail Stores
Instructors
Municipalities
Entrepreneurs
Bloggers
Photographers
Membership Sites
Optometrists
Hotels
Churches
Musicians, DJs or Bands
Fitness Instructors
Non-Profit Organizations
Freelancers
Dentists
Schools
So Simple Anyone Can Do It!
The Website Success Essentials course formula is pretty simple.
Lesson #1 is a basic overview of your site and how to set up a new site or blog in just a couple of days.
Then, we'll use a handful of lessons to walk you through each of the initial steps with some "golden nuggets" on getting your project assessed and defined as easily as possible.
We also have a lesson on how to research your market and even how to set up a 'listening station' to monitor what your prospects and leads are looking for –

as well as those of your competition

!
After that, we'll begin using more advanced strategies for taking your site to the next level of profitability, focusing on content  that converts and getting people to visit your site.
Business Development – Project Management – Copywriting – Order Fulfillment


Marketing – Site Security – Competitive Intelligence

Each lesson is designed to be "to the point" and immediately actionable. The first lesson is coming your way immediately upon your completing your order. Included in the first lesson…
Lesson #1

You'll get the first section of your Website Success Project Plan in Word format that you can begin filling out. This is a key component of building the foundation of your site and preparing to implement the elements that will make your website/blog more successful!

How to organize and document all critical elements of your website, including domain name registration, where the site or blog is hosted, how to manage email addresses associated with the site, access permissions to modify the site and contact information for anyone who has worded on the site or will be responsible for it.
A 10-step "Startup Checklist" broken down into easy bite-sized action steps!
How to use free tools that will give you some real insights as to how your site is designed and perceived by search engines.
You'll get this instantly after you join below. It's everything you need to understand the ESSENTIAL concepts of Website Success!
There are downloadable files in all 5 modules;
The Get Started Questionnaire with the Essential Questions you need to ask to make your website a true success!
The Essential Guide to Setting up Google Analytics
The Essential WordPress Installation Checklist
The Essential Guide to Copywriting
A swipe file of 800+ sensory words to make your copywriting better
The Essential Introduction to Facebook Ads
My 30-Day Listbuilding Challenge as an eBook – something you can do every day to build your email list!
(Note: If you're creating a new website or blog, you'll need to know how to register and manage a website domain; how to host a website, including email; (possibly) how to install and manage WordPress. So, even if you're a complete beginner, you can be up and running in a couple short weeks!)
This is Not Theory, But Proven, Market-Tested Advice
Every lesson is strategically created in such a way as you'll see results with the program. You will see a Return On Investment quickly…
Why Should You Listen to Me?
I have been building and marketing successful websites since 1996. We approach website development with business development and ROI in mind, unlike many developers.
Clients have included Sprint, Department of Veteran's Affairs, Chicago Architecture Foundation, National Keratoconus Institute, manufacturers, municipalities, service professionals, retailers, hotels, Convention and Visitor Bureaus (CVBs), SMBs, restaurants, public speakers and bloggers.
I am a speaker and seminar leader for organizations like National Association of Celtic Retailers, Metropolitan Club-Chicago, Orthokeratology Association of America, Novice to Advanced Marketing System Conference, CVBs and Chambers of Commerce.
Popular guest on Blog Talk Radio shows, often attracting the highest number of downloads for each host.
Entrepreneur and businessman who understands making payroll, hiring developers & marketers, keeping up with technological and marketing aspects of running a business.
Why Did I Develop Website Success Course?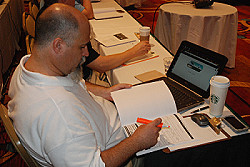 To help the hundreds of thousands website owners who are not getting a return on their online investment…and there's no real place for small and medium-sized business owners to learn how to manage their business online as effectively (or moreso) as they do offline.
The Website Success Essentials course helps business owners and their assistants understand why their websites are under-performing and how to implement strategies and best practices to improve results!
We focus on The Holy Trinity of Website Success, managing and securing WordPress and one of the most ESSENTIAL marketing tactics – Building an Email List!
It's all about online business development and management of the resources and people who do the work for you!
People come up to me at events and ask many of questions that are answered in the Website Success Course.  They want to know what they can do to make their website better.  They want a DIY solution!
We DO NOT teach you complex programming or how to use expensive programs, like Photoshop, to build your site.  We DO teach you how to know what needs to be done and to find the right people to do it!
Like a boss!
And we include the same checklists and project templates that we use for our own clients. 

We recommend free or inexpensive resources to get the job done fast and effectively!
All resources that business owners, managers and website developers can implement immediately,
resulting in more traffic to your site, more engagement & increased sales & profits! 
What People Are Saying
I've known Kurt Scholle for several years and in all that time he has proven over and over again to be knowledgeable, friendly, highly intelligent, service-focused, and always seems to keep everyone else's needs first – plus he's got a great sense of humor! If you get the chance to work with him and his team, you will be happy with the results because Kurt always delivers the highest quality work. He's definitely one of the good guys! Highly recommended!
Felicia J. Slattery, M.A., M.Ad.Ed., Best-Selling Author, Speaker, and Speech Consultant FeliciaSlattery.com
Kurt has an amazing ability to help bloggers and entrepreneurs bring clarity, focus and vision to whatever they are doing if it is related to social media marketing, blogging strategy and over all successful business practice. He is highly personable, and I found his intelligence is enhanced by his compassion and unique ability to treat all people from all walks of life as equals and worthy of his attention.
Kevin Chick-Dockery, Chicago
One of the best ways I know to recognize a true professional is their willingness to openly share information and refer you to other professionals they respect. That is a reflection of their competence and comfort with their skills and expertise, as well as a recognition and appreciation for others' professional contributions. Kurt Scholle is that kind of professional, and this course is amazing!
Dale Turner, Oregon
I find Kurt's presentations very useful and his presentation style is personable. He engages technical people in conversation and freely gives out information. Cheers.
Bakul Banerjee
There is nothing like Website Success Essentials Course available anywhere!

Once you completed the Website Success Course, you will…
Have a more profitable website.
Have completed your comprehensive & customized Website Strategy, which then becomes your Online Operations Manual.
Be able to adjust your strategy as needed.
Understand various marketing techniques and how to decide which are best for your site.
Make content changes easily.
Have more confidence in your abilities.
Be able to duplicate the process on other sites. 
I'm all about Return On Investment (ROI). Not only do I think this course should give you a return on your time and money, 
Want to know the best part? Check this out…
No More Paying Thousands of Dollars…
(Even if it's in "4 Easy Payments!")
No more high fees to a website developer. And if you use one, you'll know exactly what needs to be done and how to find and manage them more efficiently and at less cost. But I will teach you the things you need to know – and can do yourself – to make any website more profitable. And I'll teach you how to find talented, affordable people to do the rest, if needed.
I've seen somewhat similar "products" and programs priced from $1,999 to $3,999. But many good people wouldn't be able to take advantage of such an offer, simply because it wouldn't be in their budget.
Look, I know what it's like to need to succeed in your career – to make your business more successful, to make yourself more valuable to your current or future employer. I know what it's like to need a new challenge or sense of accomplishment. I also know what it's like to be suckered into buying a high-priced item on an easy payment plan. And maybe it's something I learned from my school teacher parents…that good training & education should be EXCELLENT and affordable. I take satisfaction in helping my students thrive.
It is for those reasons that I'm not going to charge thousands of dollars for this program. I'm going to make it downright affordable for every budget!
The price to enroll in the Website Success Essentials Course is $997. Take advantage of the introductory price of just $497.
"Kurt, that's a bargain … seriously … what's the catch?"
We all know that $497 is a drop in the bucket, but you are smart to ask that question! Well, truthfully, there is a catch…
Only 1,000 (And Shrinking Fast) Members
Will Be Accepted Into the Website Success Essentials Course!
I have placed a cap on this program for a number of reasons, not the least of which is the amount of time it takes to responsibly support all members in a program of this size. Once these initial memberships have been sold (and this won't take long) I will close the doors and no more memberships will be available. I don't play games and I'm a man of my word. I want to make sure that everyone who enrolls gets the very best education and support available. If you want to join, the time to do it is right now before the big SOLD OUT sign goes up in the box below.
Your Money Will Be Returned
at The Click of a Mouse Button if You're Unhappy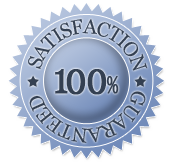 Here's my guarantee to you: I sell these memberships with a 60 day money back guarantee. You'll get a minimum of 10 lessons (8 regular + 2 bonus) during that time. If you don't believe you're getting exceptional value from Website Success Course, I'll refund your money immediately and with no questions asked. I stand behind my materials completely and know that you'll be completely thrilled with the content, and more importantly, the results.
However, for your peace of mind, know that a refund is available anytime for the next 60 days by emailing me if you are dis-satisfied for any reason.
Take Charge! Master the Essentials of Website Success!
Yes, Kurt, I want my 5-module course to learn how to make any website more profitable! I have read and agree to the legal disclaimers below.

YOU WILL RECEIVE YOUR FIRST LESSON IMMEDIATELY
(Even it's 3:00am Sunday morning)
You will receive an email every week with a download link for your weekly lesson in PDF format.
* Every effort has been made to accurately represent this product and its potential. By signing up for this product, you acknowledge and affirm that each individual's success depends on his or her background, skills, experience, dedication, resources, desire and motivation. As with any business endeavor, there is no guarantee that you will increase revenue or profits.